Introduction
Choosing the best kitchen worktop is important if you want your kitchen to look its best.
Fortunately, there are numerous options to choose from; therefore, it is easy to get something that looks fantastic every time.
Below are 10 of the best kitchen worktops to help you decide which one is right for you.
If you're looking for more advice on which kitchen worktop would suit your needs, you can get in touch with us and an experienced team member will be happy to talk you through your options.
1. Corian
Corian is actually a brand name but because of its popularity, people now use the term to refer to any solid surface made with a polymer and natural minerals. The reason it is so popular is because it looks a lot like quartz but is much lower in price.
As opposed to £30-50 per square foot for Corian, quartz sells for £30 to more than £150 per square foot.
With its seamless joins, wide array of styles and colours, and the fact that it's non-porous, Corian provides an extremely worthwhile option when deciding what kitchen worktop material to use.
2. Concrete
Concrete worktops can give any kitchen a much more modern look. They are energy efficient because they capture the heat, then release it once the kitchen cools down some.
They come in a wide selection of stain colours and textures.
Even better, concrete worktops look great when combined with worktops made out of other types of materials, so they are a very versatile material indeed.
3. Granite
Granite is a natural stone; therefore, matching slabs can be a bit tricky. Nevertheless, for many homeowners, this simply adds to its charm.
Since no two granite slabs are alike, each homeowner will get something truly unique for the kitchen area.
Granite comes with two tidbits of advice, however.
First, never hesitate to wipe up spills quickly because they can stain the granite.
Second, it is a porous material and should be sealed regularly, preferably once a year.
4. Laminates
Laminates are made for budget-conscious customers, but this doesn't mean that they don't look great in your kitchen.
In fact, thanks to the newest laminates that come in bold colours and many unique patterns, many people who never thought that they'd like this option are choosing laminates.
Many of today's laminates are also made to look just like natural stone or quartz, which is going a long way in adding to their popularity.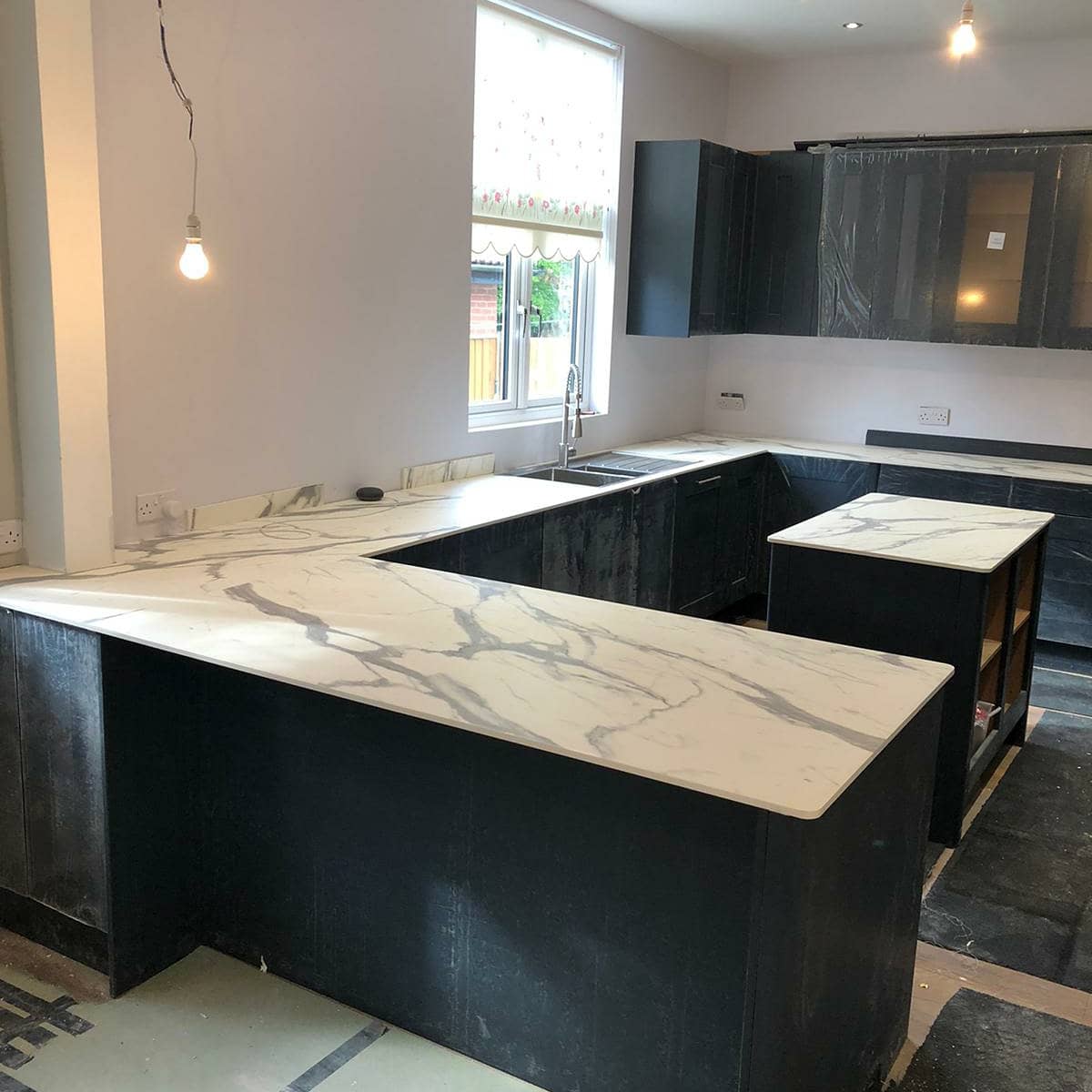 5. Marble
If you choose a marble worktop in light grey, which is very much the trend nowadays, it can hide light stains and general wear and tear.
Marble is as popular as granite and is porous, which means that you'll have to watch out for stains, especially those that come from acidic materials and have the worktop sealed regularly.
Nevertheless, it's a gorgeous material that comes in lots of different styles and it gives every kitchen a high-end look that people love.
6. Quartz
Also known as engineered stone, quartz is impact-resistant, stain-resistant, and heat-resistant and therefore can take a lot of abuse and still look good.
It comes in a wide variety of colours and designs and can be personalised to give you the perfect look every time.
Even better, quartz is non-porous and therefore never has to be sealed as natural stone worktops do.
It is a low-maintenance yet high-tech type of worktop that you are certain to love, ranking right below granite for most people.
7. Soapstone
Soapstone is a natural stone that frequently comes in various shades of grey so that it matches all kitchens.
It is both stain-resistant and bacteria-resistant and non-porous as well.
If you choose soapstone worktops, you won't have to seal them, but you should occasionally wipe them down with mineral oil so that they shine better and hide minor scratches.
8. Solid Surface
Solid surface materials are man-made and usually contain acrylic, polyester, or epoxy resins and pigments.
They are low-maintenance and non-porous.
These materials are also budget-friendly and are often used when making seamless-style worktops.
With the right craftsperson, they are a very high-tech type of worktop.
9. Stainless Steel
If you want a more industrial or professional look in your kitchen, stainless-steel worktops are what you want.
They are super easy to clean and will match any colour in your kitchen.
To clean them, just wipe with a damp sponge and a mild soap and you're all set to go.
They also have the added benefit of not allowing bacteria to build upon your worktop, which means that you'll have a much more sanitary kitchen in the end.
10. Wood/Butcher Block
One of the things people love the most about this type of worktop is the fact that it is heat-resistant; therefore, you can place a hot pot directly on top of it without damaging or ruining it.
If you love a country or cottage look, butcher block worktops give your home the perfect look.
While they are perfect for people on a budget, they never have a cheap look but instead, give your kitchen a bit of pizzazz.
They're both decorative and functional, and they are available in many different patterns.