Introduction
A recent survey found that a large number of homeowners are choosing to buy a Compact Laminate Worktop over any other material. This is because they are a cost-effective, versatile option for any modern kitchen. However, when making your decision you need to decide whether there are any disadvantages to the product before you commit to purchasing it. To help you with this, here are some of the pros and cons of this popular kitchen worktop solution.
The main benefits of compact laminate worktops:
Easy to clean
Versatile (shapes and bespoke edges are easier to cut)
Affordable price
Wide range of designs
Easy to maintain
Heat resistant
Scratch resistant
Why are compact laminate worktops so popular?
Compact laminate worktops are extremely popular and this is mainly down to how versatile, durable, easy to clean, and customisable they are to fit your kitchen's needs.
For example, one of the major reasons for people purchasing compact laminate worktops (particularly 'Zenith') from what we've seen has been down to the ability to have 'draining grooves' worked into the worktops itself.
Draining grooves (as you can see in the picture below) are a great feature which, as the name of this feature suggests, adds grooves into your kitchen worktops which causes any liquid on the surface to drain into your sink a lot better.
Compared to having a flat surface where any liquid is going to either sit on the worktop or spill out onto a larger surface area because there isn't anything stopping how the liquid is being dispersed.
With draining grooves, they are designed to stop the flow of liquids by adding small cuts into the worktop itself to allow for any liquid to be drained a lot easier.
As with any kitchen worktop, you will need a professional kitchen worktop fitter to complete the job to a high standard.
Do I need a kitchen worktop fitter?
Having an experienced kitchen worktop fitter to install your worktop is always beneficial because you may want additional features, such as the draining grooves or a specific fit and design, to be added to your worktop to make sure it fits the exact specifications and requirements that you want to see in your kitchen.
Another advantage to purchasing this type of laminate worktop is that they are very durable. As mentioned, they are manufactured to withstand high temperatures and are not as fragile as some alternatives.
Advantages of Compact Laminate Worktops
They are also highly resistant to scratching. Many users have reported that their worktops remain looking like new for many years. This is because the finish is durable and cannot be marked or damaged easily.
A great plus-point for families who are very active in the kitchen and like to cook a lot, you're going to see a lot of spillages on your kitchen worktop.
Why would I choose compact laminate over another material?
A common worktop that we've seen a lot of families opt for has been solid wood which although has a very aesthetic design if you get the right kind of grain, does tend to show a lot of wear and tear within a shorter period of time.
The reason for this being that solid wood worktops aren't typically sealed with any protective epoxy layers.
Not having this protective sealant causes any liquid left on the surface to be absorbed, solid wood worktops that absorb liquid become extremely prone to discolouration and cracking.
Compact laminate worktops on the other hand combats this by having that epoxy layer which means that any liquids left on top of it won't be absorbed into the material itself and will instead sit on the surface until it has been cleaned up.
How much do they cost?
Price points are always a consideration when looking to buy a new worktop, and compact laminate worktops typically fall into the range of the more affordable options, not too dissimilar in price to Quartz kitchen worktops.
If you're interested in finding out more about the pricing for kitchen worktops and having us fit them as well, feel free to give us a call or send us an email.
Of course, when you buy one of these worktops you do need to decide what size and shape you want. Compact laminate worktops are a lot easier to work with compared to solid stone worktops due to the density of the material.
If you have a very specific idea of what you would like your kitchen to look like, then you may want to work in a few curves or bespoke edges into your kitchen worktop to get it looking exactly the way you had pictured it.
Compact laminate worktops make this job a lot easier which means that the potential for more obscure and unique shapes and designs are a lot more doable on a smaller budget.
When you buy a compact laminate worktop, you will also need to consider the finish. There are a number of different finishes available and the one you choose will depend on your personal preference.
What kind of finishes can you have on a compact laminate worktop?
Some people prefer a high gloss, others opt for a matte finish. If money is tight then you may wish to choose a cheaper finish to save yourself a bit of cash. Just make sure that you don't sacrifice quality for the savings!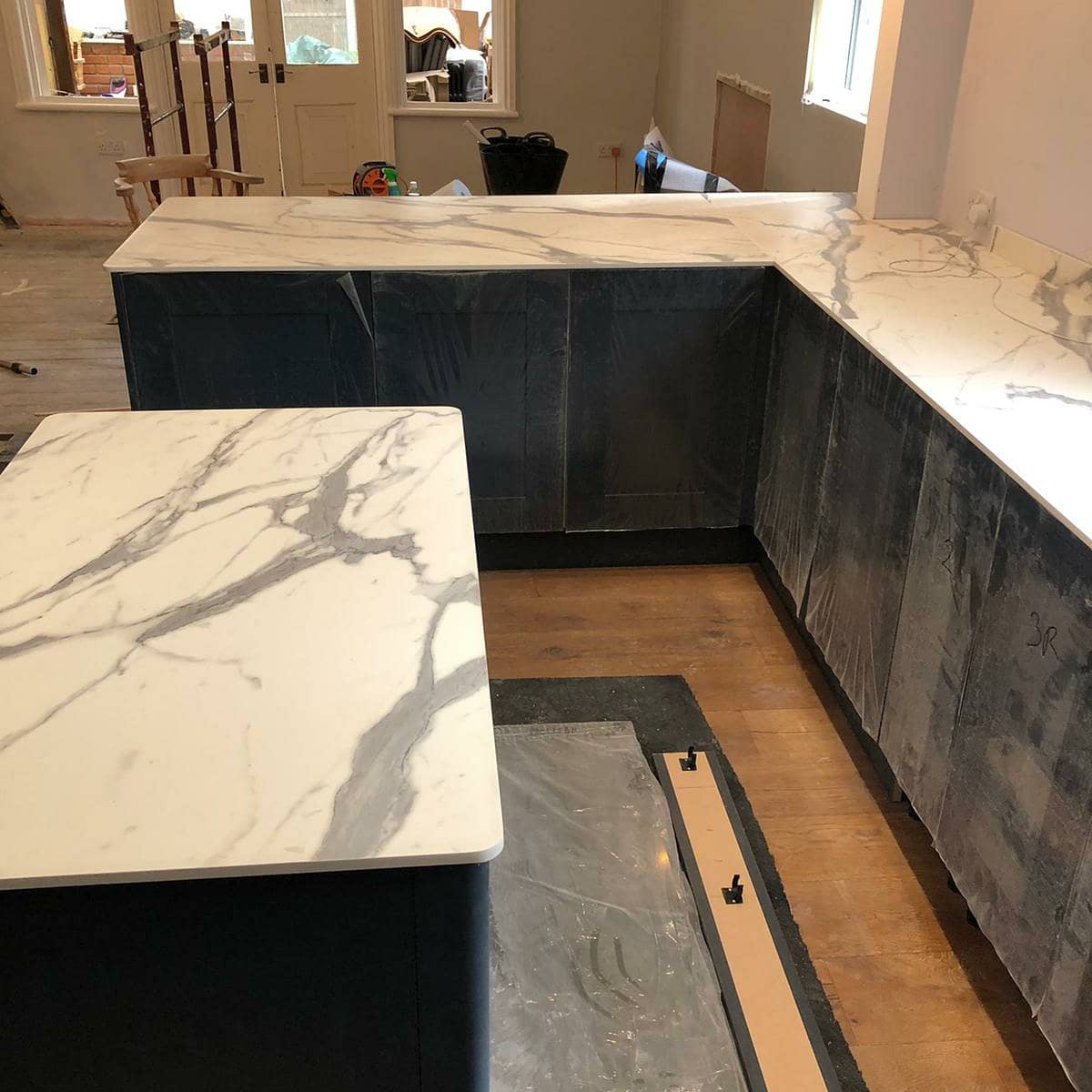 Hopefully, from this article you will have learned why you should buy a compact laminate worktop.
The main benefits are that they are affordable, durable, long lasting and look fantastic. Get exactly what you want from your next purchase and have fun with your new kitchen!
If you're looking for compact laminate worktops and a kitchen worktop fitter to install one for you, we've had over 21 years of experience fitting kitchen worktops! Get in contact with us today for a free quote on your kitchen.