We Compare The Best New Kitchen Suppliers.
The kitchen is the heart of every home. A kitchen remodel can be a great investment that adds value to your home and improves your quality of life.
Finding the right kitchen supplier and negotiating the design and installation process can be a daunting task. Choosing a kitchen supplier can mean the difference between getting your dream kitchen or months of stress and rising costs. Even if the installation goes well, the design choices have to go on for a long time to get value for money. This is why choosing the right kitchen supplier is so important.
Our recommended fitted kitchen suppliers
Wickes
We believe Wickes is the premier kitchen supplier with products and services that appeal to many homeowners. The brand offers virtual and in-person design consultations at any of its 230 stores in the UK.
A professional designer will give you advice and suggestions according to your budget and preferences. They create a 3D rendering of your kitchen so you can get an idea of ​​what the end result will look like.
Wickes has 14 showroom kitchen styles and 5 ready-to-use kitchens to choose from. Each comes in a variety of colours and you can choose from matte or gloss finishes.
Wickes also offers his 20-year warranty on cabinet elements, hinges and drawer slides. Doors and drawer fronts have a 20 year warranty, Blum hinges and drawer systems have a maximum of 20 years warranty.
Wickes showroom kitchen is listed in three different price ranges, but you'll have to consult the designer to confirm the price of the kitchen. The brand's ready-to-fit range is more affordable. Ready-to-install Dakota kitchen units start at £835, while the more expensive Camden range starts at £3,128.
Wickes is a great all-rounder when it comes to kitchen remodelling, with attractive designs, great product warranties, bespoke service, and affordable installation options. If you want your kitchen supplier to support you throughout the process, this is a good choice.
Ikea
You may be familiar with IKEA DIY furniture, but IKEA kitchens work just as well. Kitchen cabinets are delivered flat packed without frames.
If you want to try the installation yourself, remember that installing an entire kitchen with hundreds of parts is not for the inexperienced or the faint of heart.
You can also hire independent contractors. IKEA offers a wide range of beautiful and elegant Scandinavian kitchen designs in a variety of finishes and colours. Homeowners can choose every detail, from countertops and appliances to handles and drawer pulls.
The brand offers multiple warranty packages ranging from 2 years to 25 years for METOD kitchen systems.
IKEA offers a variety of payment methods, including an attractive 5-year interest-free loan option.
Unless you have a very small kitchen and only need a few cabinets, we do not recommend setting up your own IKEA kitchen as a DIY project (unless you have DIY experience). That means a professional installation can cost up to £1,500 or more. The biggest drawback of choosing IKEA as your kitchen supplier is the poor quality of the products. IKEA uses materials such as his MDF and melamine for cabinets, which are much cheaper than solid wood. They are also more susceptible to deterioration and wear.
Budgeting for an IKEA kitchen is tricky as each component is priced separately. You can pay just €51 for a basic base cabinet with shelves and a few more for drawers, drawer handles and fronts. On average, base cabinets cost between $51 and $170.
If you want to save money and customize your kitchen yourself, IKEA may be the best option.
B&Q
B&Q offers 12 attractive kitchen series under the Innovo and GoodHome brands. Wall cabinets, base cabinets, worktops and accessories are available in a variety of surfaces and 9 basic colours.
The B&Q range includes traditional Shaker style kitchens as well as more modern and sleek designs with matt or gloss finishes. Choose from dark, natural, or neutral colours and choose between a push-open mechanism or an integrated handle.

B&Q Designer and an in-store or virtual showroom can help you plan and visualize what your kitchen will look like after installation. You can install the kitchen yourself, find an installer independently, or hire one of B&Q's trusted local partners.
Despite offering some of the cheapest kitchens on the market, B&Q kitchen products offer a generous warranty.
25 year warranty on cabinets, drawers, hinges and countertops.
The sinks, faucets, tanks and internal storage solutions are guaranteed for 10 years.
GoodHome devices are guaranteed for 5 years.
The brand offers a wide range of affordable kitchen designs, styles and colours so your vision can truly come true. The company takes a hands-on approach to some of the processes, but it requires more involvement than other brands such as Wickes and Magnet.
However, it can save you a lot of money, so if that's your priority, B&Q could be your ideal kitchen supplier.
Magnet
Magnet offers very high quality products, luxurious finishes and excellent customer service including complete design, installation and aftercare support. Unlike many other kitchen companies on this list, Magnet allows you to customize the colours for a perfect paint-to-order finish.
The process can start with a virtual consultation or an in-store consultation. Kitchens are available in shaker, traditional or modern style. You can order your new magnetic kitchen factory-assembled or install it right away. The latter is the cheapest option, but it's not available in all regions.
The vendor offers a 15- to 20-year warranty on its cabinets, as well as monthly financing and a "buy now, pay later" option.
There are very few complaints about magnets. Their products are of the highest quality, their service is excellent, and judging by their current 4.6 star rating on TrustPilot, their customers are very happy with Magnet Kitchen. The only real issue is the price, this is very manageable if you are willing to fund your kitchen with monthly payments.
If you are looking to remodel your kitchen with the highest quality products and are on a tight budget, Magnet is for you.
Howdens
Howdens is a trade-only premium fit kitchen brand with 25 different ranges and 3 styles that can be combined and modified in 75 different ways. Elmbridge's dove grey kitchen won Best Classic Kitchen of 2022 at the Ideal Home Kitchen Awards.
With 25 kitchen ranges at Howdens, you have a lot to choose from. Choose from glossy, grained, or matte finishes, or choose a paintable kitchen if you want to get creative. Various accessory and appliance packs are also available to help complete your kitchen.
All enclosures manufactured in Howdens UK are backed by a generous 25 year warranty against problems arising from defects in the manufacturing process or raw materials.
Doors are guaranteed for 5 years.
Howdens really deliver superior quality. All of its manufacturing facilities are (BS) ISO 9001 certified.
The amount you pay depends on the product you choose and the construction company you work with. According to online reviews, the average cost of a Howdens kitchen is between £5,000 and £15,000, depending on the plumber, appliances, finishes and choice of flooring or tile.
Howdens offers great designs, colour options and styles. Whatever your tastes and requirements, you will find something you like. Remember that pricing is only provided to builders, so you need to find a fair and trustworthy builder.
Benchmarx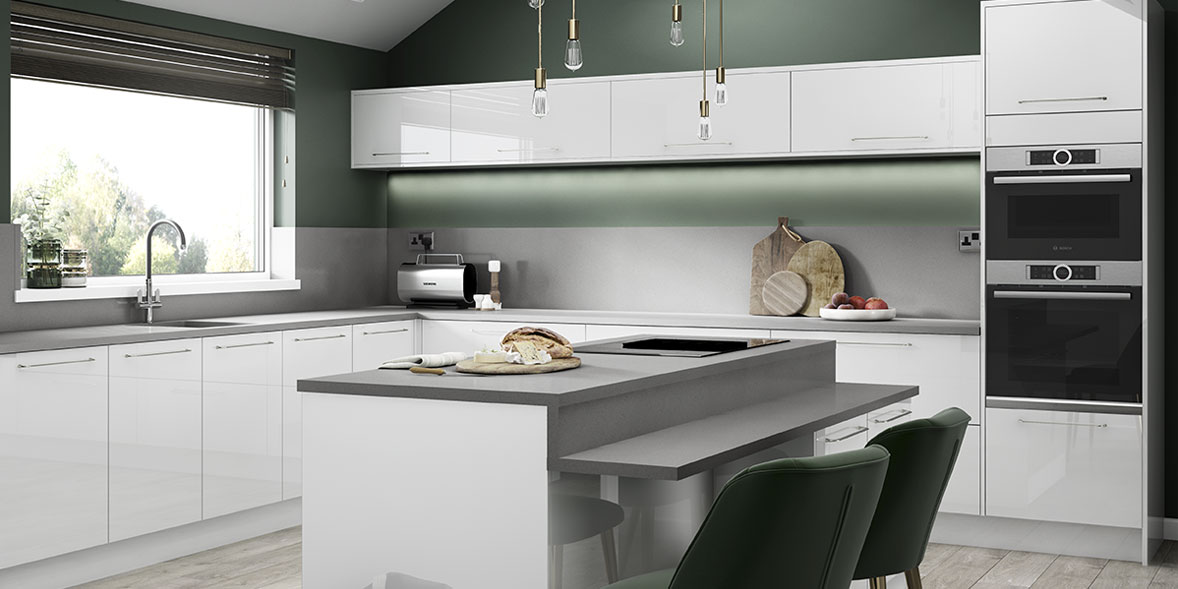 Benchmarx is a trusted brand in kitchen worktops and part of Travis Perkins PLC, a group of leading companies in the builders' merchant and home improvement markets in the UK. Established in 2006, they have over 150 branches and offer a range of high-quality kitchen products, including appliances, worktops, and joinery.
Over 15 years of experience designing and supplying kitchens and is dedicated to helping you get the kitchen of your dreams at an affordable price.
Benchmarx has a team of specialists with over 15 years of experience designing and supplying kitchens, so you can trust that you're getting expert advice and guidance.
Benchmarx offers a lifetime guarantee on its worktops, giving you peace of mind and protection against any issues that may arise.
With over 150 branches throughout the UK, it's easy to find a Benchmarx location near you and get the worktops you need.
Benchmarx is a highly trusted retailer of high-quality worktops, with almost 2000 positive reviews on Trustpilot. They offer competitive prices and a lifetime guarantee for added peace of mind. Their team of specialists has over a decade of experience in supplying and designing worktops, and they offer a wide range of colors, styles, and designs to suit any taste.
If you're interested in finding out more about pricing and the process, don't hesitate to call and speak with their expert team.